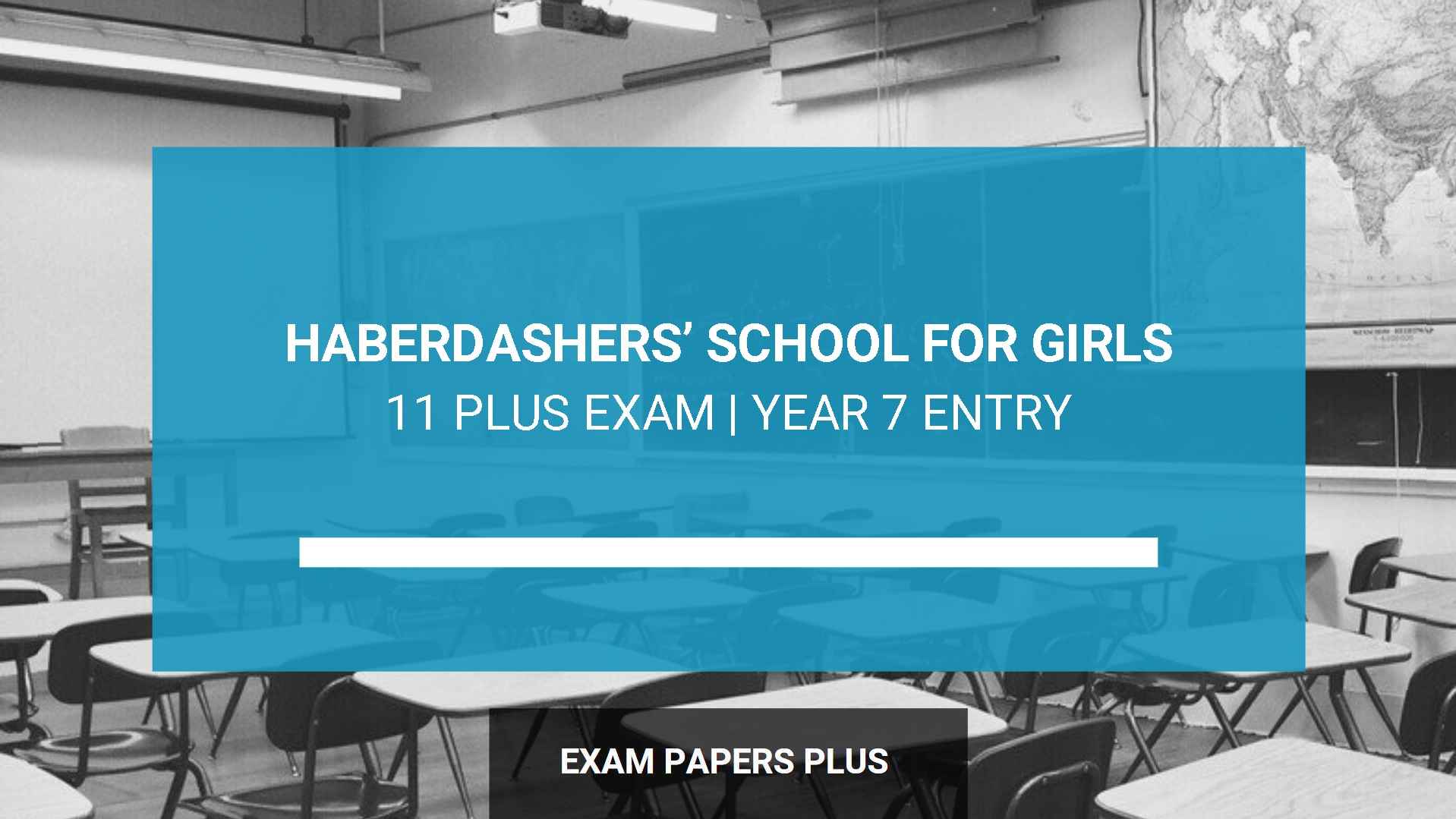 Haberdashers' School for Girls 11 Plus (11+) Entrance Exam Information
Introduction
Haberdashers' School for Girls (HABS Girls), formerly known as Haberdashers' Aske's School for Girls, is an independent day school in Elstree, Hertfordshire. Founded in 1875 by the Worshipful Company of Haberdashers, this high-performing school has educated a number of notable alumni, including politicians, archaeologists, authors and a British Empire Medal recipient. [1]
As one would expect from an in-demand school, the curriculum at Habs Girls is both broad and intellectually stimulating. Subject areas range from art, science, IT and mathematics, to MFL, Latin, humanities and PSHCE, introducing students to a structured programme of in-class activities which boost their moral judgment, social skills and academic abilities.
Further invested in providing an all-round education, the school offers a plethora of co-curricular activities, including Climate Action Club, chess, Islamic Society, Japanese Club and coding. Girls also benefit from a wide selection of performing arts opportunities, such as drama workshops and ensembles, but maximise their sense of social responsibility through active participation in volunteering and charity fundraising events. [2]
The school's warm and secure community enhances students' sense of worth and complements the spirit of friendliness pervading the vibrant atmosphere on campus. Loyal to its Christian tradition, Habs Girls is home to a rich diversity of faiths and ethnic backgrounds, identifying differences as crucial to its many academic and non-academic successes.
Haberdashers' School for Girls 11 Plus (11+) Exam Information
Address: Aldenham Road, Elstree WD6 3BT
County: Hertfordshire
Admissions info: admissions@habsgirls.org.uk or 020 8266 2300
School type: Independent day school for girls
Number of students: 1160 (approx.)
Open day: In the Spring and Autumn terms
Exam date: December of Year 6
Open Events for Haberdashers' School for Girls 11 Plus (11+) Entry
The school holds a number of open events, known as School in Action Mornings, welcoming prospective families for a visit and a rare opportunity to explore facilities and meet staff. Booking is made through the website.
If you would like to visit the school on a normal working day, please reach out to the Admissions department to book a slot. 
Haberdashers' School for Girls 11 Plus (11+) Admissions
The registration deadline for 11+ applicants is in November of the year preceding entry. The registration form can be accessed through this page. 
Entry into Year 7 is subject to your daughter's performance throughout the school's extensive assessment process. The entrance exam takes place in December, and top-performing candidates will be invited back to the school in January/February to attend an interview. 
Offers of places are posted in February, to be accepted by the deadline in March.
Haberdashers' School for Girls 11 Plus (11+) Scholarships and Bursaries
Habs Girls offers Academic Scholarships to applicants who perform exceptionally well in the entrance examination. No separate applications are needed. Valued at 10% and 20% of fees (and up to 30% in some cases), the awards are valid throughout the applicant's time at the school.
Music Scholarships are also available. They are valued at 25-50% of school fees. Awards and Exhibitions are offered at a lower rate and can cover the annual cost of music lessons. All types of Music awards can be awarded in conjunction with a means-tested bursary or another scholarship. 
Habs Girls also awards Art, Drama, Creative Writing and Sports Scholarships. Art and Creative Writing awards are offered on the basis of a portfolio. Drama Awards are provided following an audition, while Sports Scholarships are awarded to candidates who excel during a practical session. All Scholarship applicants will attend an interview. Please click here to learn more. 
In line with their mission to provide quality education to pupils regardless of their financial background, the school offers means-tested bursaries, valued at 10-100% of school fees. If your household gross income is below £38000, it's likely that your child will qualify for a free place.
The deadline for bursary applications is in November of the year preceding entry. Please note that you will be asked to meet a member of the Finance team to discuss your application. More details are available here. 
Haberdashers' School for Girls 11 Plus (11+) Exam Format
The Haberdashers' School for Girls 11+ exam consists of the following papers:
The English paper comprises two sections. Section A consists of a selection of reading materials from a range of genres, both fiction and non-fiction. Candidates are asked to respond to a variety of questions to enable the school to evaluate their understanding and analytical skills. In Section B, candidates are asked to respond to one of a selection of directed writing tasks, which will give them an opportunity to demonstrate their ability to write effectively for a specific purpose and audience.
The Maths exam is designed to test a candidate's ability to think mathematically and logically. It covers addition, subtraction, multiplication and division, with application to fractions, decimals, percentages, the metric system of weights and measures, the 12 and 24 hour clock, time problems, and questions involving geometric shapes and bar graphs. The use of calculators is not allowed.
Please see below for further details and recommendations on how to prepare for the Haberdashers' School for Girls 11+ entrance examination.
How to Prepare for the Haberdashers' School for Girls 11 Plus (11+) Exam
Our practice tests help students become familiar with the style and layout of the Haberdashers' School for Girls exams, which can help boost their confidence in the lead up to the big day.
They cover all the question types that could be asked in the entrance exam and can be used to identify any weaker areas that require additional work.
Once you devise a specific study schedule and a structured approach towards 11+ exam preparation, you will be able to remove unnecessary stress from the preparation process and make it more manageable for your child.
We highly recommend that students take our practice tests under timed conditions to get used to answering questions quickly and under time pressure.
Our practice tests are age-appropriate, yet still challenging, corresponding perfectly with the demands of a competitive independent school's 11+ entrance exam. Due to their practicality and effectiveness, they are used successfully by tens of thousands of students every year.
Our recommendations to help your child prepare for the Haberdashers' School for Girls 11 Plus entrance examination can be found below.
Haberdashers' School for Girls 11 Plus (11+) Exam Practice Papers
Recommendations for each section of the Haberdashers' School for Girls 11 Plus exam can be found below:
English
We highly recommend the following packs to prepare successfully for the Haberdashers' School for Girls 11+ English paper. They will help improve your daughter's comprehension skills, such as inference, and writing skills, including spelling, vocabulary and punctuation:
Comprehension
11+ Complete Comprehension Guide
Writing
Mathematics  
We highly recommend the use of the following packs to help develop your daughter's arithmetic and problem-solving skills within the examination context of the Haberdashers' School for Girls 11+ maths test:
Full Practice Tests
Skill Specific Practice
11+ Fractions, Decimals & Percentages
11+ Reflection, Rotation & Symmetry
Interviews
11+ Interviews – The Complete Guide
Get 10% off orders over £70 and 20% off orders over £250. Use the code eppdiscount at checkout.
Our practice tests aim to show what sort of questions were included in the Haberdashers' School for Girls 11+ past papers. The information provided about Haberdashers' School for Girls was believed to be correct at the time of publishing. However, please be aware of future changes. We advise you to contact the school directly if you are unsure of anything. School contact details are provided within the post.
Other entry points for Haberdashers' School for Girls:
Click here to learn about Year 3 entry via the 7 Plus (7+) Exam
Click here to learn about Year 9 entry via the 13 Plus (13+) Exam